Solaris Bus & Coach cordially invites you to stand 6B100 in hall 6, where at the next Global Public Transport Summit UITP in Barcelona the company will present its flagship Urbino 12 electric model from the TMB Barcelona fleet. On the second day of UITP exhibition, June 6, at 11:00 am the manufacturer will hold a press briefing . See you in Barcelona!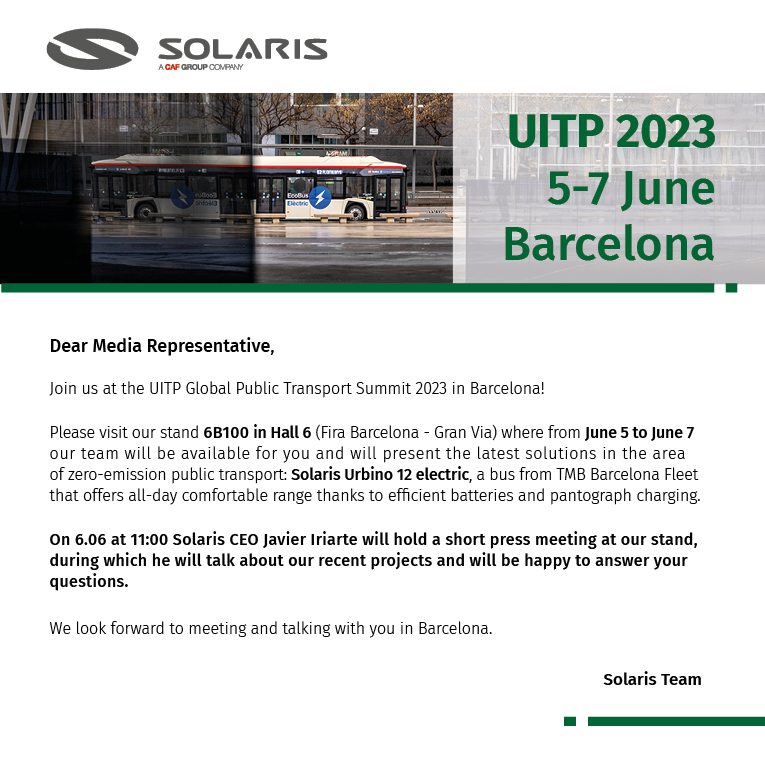 Press releases
Multimedia and files
Information Solaris
Solaris Bus & Coach sp. z o.o. is one of the leading European bus and trolleybus manufacturers. Benefiting from 27 years of experience and having manufactured over 23,000 vehicles, Solaris affects the quality of city transport in hundreds of cities across Europe every day. Thinking of the future, the firm is setting new standards by dynamically developing its products, in particular in the electromobility sector. Solaris electric buses, trolleybuses and hydrogen buses are cutting-edge solutions for zero emission public transport. Solaris products have been repeatedly awarded for quality and innovation. The Solaris Urbino 12 electric won the prestigious European "Bus of the Year 2017" competition. In September 2018 Solaris Bus & Coach sp. z o.o. joined CAF Group.